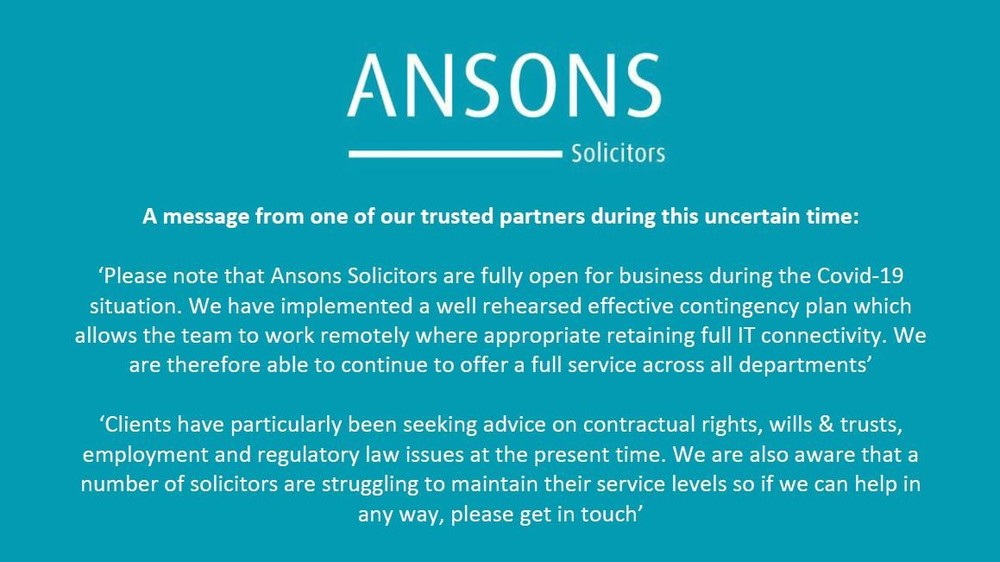 A message from one of our trusted solicitors
As you know, Parker Hall are like many other companies are working remotely to maintain our usual service to all our clients as much as possible. We are progressing the conveyancing of our sold properties for both buyers and solicitors and have a number of excellent solicitors which we are working closely with to maintain contact and keep things moving along. Please see below a message from one of our trusted partners Ansons Solicitors during this uncertain time:
'Please note that Ansons Solicitors are fully open for business during the Covid-19 situation. We have implemented a well rehearsed effective contingency plan which allows the team to work remotely where appropriate retaining full IT connectivity. We are therefore able to continue to offer a full service across all departments.
Clients have particularly been seeking advice on contractual rights, wills & trusts, employment and regulatory law issues at the present time.

We are also aware that a number of solicitors are struggling to maintain their service levels so if we can help in any way, please get in touch

'

Thank you Ansons for your commitment!

Contact Ansons Lichfield: 01543 263 456
Contact Ansons Sutton Coldfield: 01543 466 660
info@ansonssolicitors.co.uk